Car Service Denver to Winter Park
Are you planning to travel for reasons of business or pleasure? Winter Park Limo Service offers you the luxury, exclusive, and private transportation you've always wanted. We can provide black town car service from Denver to Winter Park. Similar to our well-known limo service and Sprinter Van Rental Winter Park is the best in the business and once you are inside, you will be able to enjoy a well-appointed and comfortable ride to where you want to go. 
We are proud to present you with the top SUV for Ski Resort Denver and Winter Park CO. Winter Park Limo Service is aware of how stressful airport transfer times can be, especially when you consider the burden of luggage and parking fees to pay for as well as the frustration that comes with the traffic. Why not take care of the hassle of preparing for your trip and let us offer you smooth and easy travel between Denver Airport to Winter Park? We provide our discerning customers with a selection of luxurious SUVs, Vans, and cars.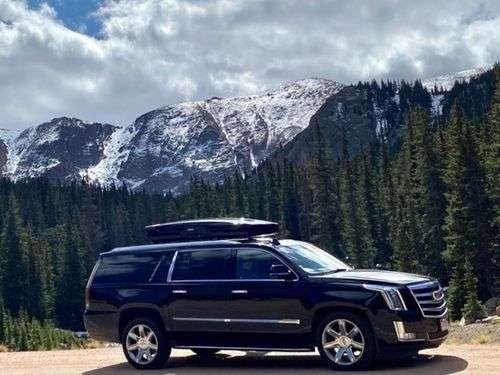 Transportation from Denver Airport to Winter Park
If you're a fan of skiing zip-lining, horseback riding and snowmobiling, we can provide you with our fantastic services. Book us to provide private transportation from Denver Airport to Winter Park car services and we'll take you for an enjoyable trip. We guarantee that you will be amazed by the beautiful natural scenery. The vibrant lakes, the high trees that are covered in snow, and white snowy mountains are a treat for the eyes.
Our luxurious cars will let the most stunning scenery. There are Black SUVs, and Sprinter Vans to cater to your preferences. Our rates are affordable but, they do fluctuate when there are bad weather or holiday conditions. We're punctual and won't allow you to arrive at your location late. Therefore, you can save time and cash by using our Limos. You can hire us online. If you require Winter Park to Denver car services, contact us.
Denver Ride offers a safe, affordable, and easy way to travel between Winter Park, and more than 20 cities in Colorado mentioned below.
Denver to Winter Park | Denver to Winter Park shuttle | Denver airport to Winter Park | Winter Park to Denver airport | Winter Park co to Denver co | From Denver airport to Winter Park | Transportation from Denver to Winter Park | Winter Park Colorado to Denver | Transportation Denver airport to Winter Park | Transportation from Denver airport to Winter Park | DIA to Winter Park | Winter Park transportation | Denver international airport to Winter Park | Car service from Denver to Winter Park | Winter Park to Red Rocks | Winter Park car service | Denver to Winter Park car service | Transportation from Winter Park to Denver airport | Denver to Winter Park transportation | Car service Denver airport to Winter Park | Winter Park to Denver transportation | Vans Winter Park | Car service Denver to Winter Park | Lakewood to Winter Park | Granby to Winter Park | Winter Park to DIA | Transportation Denver to Winter Park | Winter Park Colorado to Denver airport | Castle Rock to Winter Park | Winter Park limo service | Car rental Denver to Winter Park | Winter Park airport transportation | Car service from Winter Park to Denver airport | Ride from Winter Park to Denver airport | Airport transfer Denver to Winter Park | Transportation from DIA to Winter Park | Limo from Denver to Winter Park | Car service from Denver airport to Winter Park | Car rental from Denver airport to Winter Park |