No matter if you're traveling to Keystone for a day, a week, or a whole month, our Keystone Limo service will get you there. Our late-model limos are available for group travel from one person to 14 passengers. We have a huge selection of limo services including Luxury SUVs, Private black car sedans for solo travelers, or Keystone Sprinter VANs for smaller groups of up to 14 people. Our limo service to Keystone is top-notch and affordable. Keystone Limo Service provides transportation throughout Colorado. We can transport you to any area in Colorado including Denver, Summit County Eagle County, and beyond. We will take care of the driving so that you can concentrate on what you want.
Denver Ride Limo Services can help you get around Keystone in style if you're planning a Keystone summer hike or ski vacation. We can pick you up from your airport and take you to Keystone.
You can reserve your spot online or by phone to get ready for your day. It's easy with us.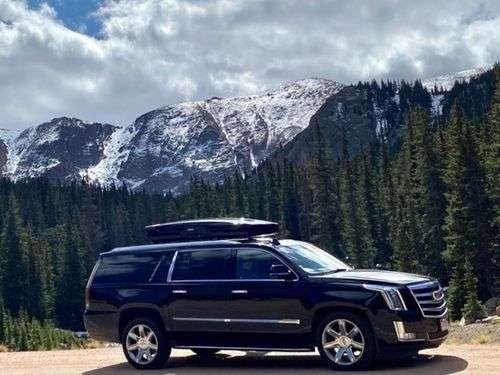 Airport Transportation Keystone CO
Our limo services can pick you up at Denver International Airport (DIA), and transport you to Keystone for the two-hour drive. You may also want to land at Eagle County Airport, which is 65 miles west of Keystone. You can count on our airport transportation to meet you at any airport.
Denver International Airport is the destination for many commercial flights that fly into Eagle County Airport. It may be more cost-efficient to have our Denver limo service pick up you in Denver for your Keystone vacation.
Occasionally, nonstop flights have been offered by airlines to Eagle County Airport from major cities such as Albuquerque during the winter ski season.
Professional, courteous chauffeurs will take you from the airport to your hotel. They have completed safety training to become limo drivers. Whether you're landing at Denver International Airport, or Eagle County Airport, our Luxury SUVs or limo services can be relied upon. We make it easy to get you where you need to be.
Denver Ride offers a safe, affordable, and easy way to travel between Keystone, and more than 20 cities in Colorado mentioned below.
Transportation Denver to Keystone CO
Car Rentals Keystone Colorado | Keystone limo service | Fort Collins to Keystone | Keystone to Denver airport | Keystone limo | Keystone to Denver | Limo service Keystone CO | Keystone CO to Denver CO | Closest airport to Keystone CO | Colorado Springs to Keystone | Denver airport to Keystone | Airport near Keystone CO | Transportation from Denver to Keystone | Denver airport to Keystone Resort | Keystone limousine service | Keystone limousine | Car Service Keystone | Van Rental Keystone CO | Estes park to Keystone CO | Limo service near me | Taxi Keystone CO | Taxi service Keystone CO | Keystone Taxi Service | Keystone Taxi