Car Service Denver to Estes Park
Denver Ride can take you to Rocky Mountain National Park's base camp. We are available for all sizes of guests. We offer the finest Estes Park limo service including airport transportation and luxury private car service.
Are you visiting Denver or Estes park for the first time? Denver Limo Service is available to help you. We offer top-quality transportation services and have the best fleet of luxury vehicles to provide you with a luxurious ride from Denver International Airport to Estes Park. No matter if you're traveling alone or with friends, we can make your journey unforgettable. Our professional and trained drivers are skilled on the roads. They'll get you anywhere in Colorado safely and on time.
Our private car service from Denver to Estes park is the best way to get the best limo experience. Our airport car service offers black car services and Luxury SUVs. There are many options available, including SUV, sedan and Sprinter Vans. You can choose from a variety of sizes to enjoy a private ride with your friends and family. For assistance in choosing the right one for you, call us today.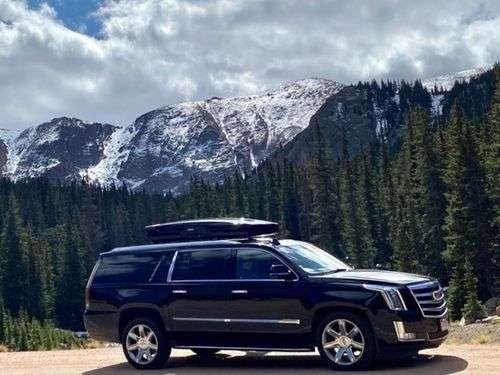 Estes Park Limo and Airport Car Service Transportation
Denver Ride is the best choice for a Denver airport car service. We provide transportation services for people who are visiting Denver from the airport. A driver can be waiting for you at the Exit terminal.
We place high importance on the time of our customers as a company. Our 1st priority is to get to our clients' destinations on time. Denver airport limo service will provide you with the most comfortable and luxurious car to transport you from Denver International Airport to your destination. You'll get best treatment once our driver meets you at your pickup point. They will handle you luggage. you just sit relax and enjoy the ride.
Estes Park Limo offers a unique ride from Denver International Airport to Estes park. Estes Park mountain shop offers a wide range of products for visitors who are looking to have fun. It also offers many fun activities for you and your friends. You will arrive at this mountain shop feeling relaxed and ready to have a great time.
Denver Ride offers a safe, affordable, and easy way to travel between Estes Park, and more than 20 cities in Colorado mentioned below.
Denver Airport to Estes Park CO
Denver to Estes Park | Denver to Estes Park shuttle | Denver airport to Estes Park | Estes Park to Denver airport | Estes Park co to Denver co | From Denver airport to Estes Park | Transportation from Denver to Estes Park | Estes Park Colorado to Denver | Transportation Denver airport to Estes Park | Transportation from Denver airport to Estes Park | DIA to Estes Park | Estes Park transportation | Denver international airport to Estes Park | Car service from Denver to Estes Park | Estes Park to Red Rocks | Estes Park car service | Denver to Estes Park car service | Transportation from Estes Park to Denver airport | Denver to Estes Park transportation | Car service Denver airport to Estes Park | Estes Park to Denver transportation | Vans Estes Park | Car service Denver to Estes Park | Lakewood to Estes Park | Granby to Estes Park | Estes Park to DIA | Transportation Denver to Estes Park | Estes Park Colorado to Denver airport | Estes Park limo service | Car rental Denver to Estes Park | Estes Park airport transportation | Car service from Estes Park to Denver airport | Ride from Estes Park to Denver airport | Airport transfer Denver to Estes Park | Transportation from DIA to Estes Park | Limo from Denver to Estes Park | Car service Estes Park to Denver airport | Car service from Denver airport to Estes Park | Car rental from Denver airport to Estes Park |