Car Service Denver to Aspen
We are proud to be Colorado's premier provider of Limo Services. Our new All-Wheel Drive Luxury Cadillac Escalade SUV, Chey Suburban for 6-7 passengers and Mercedes Sprinter 14 Passenger Executive vans offer comfortable leather seats. We offer competitive rates to Aspen-Snowmass and Vail-Beaver Creek and Denver Airport Limo Service and Ground Transportation Car Service from Denver to Aspen.
Our non-stop Door to door Chauffeured Aspen Car Service is available for local and long-distance airport ground transfers, transfers between Ski Resorts and charter service.
We make a great effort to give each client a memorable experience, whether they're headed to an airport or a special event.
We guarantee that you will be happy to make the right decision if you choose us (Denver Ride). Book your next ride limo service near me.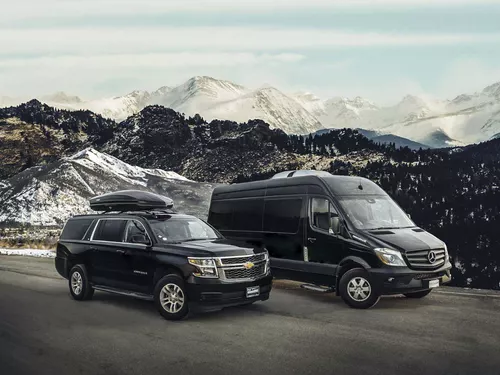 Transportation from Denver to Aspen
 If you are looking for high-class, relatively affordable, and friendly private transportation services from Denver to Aspen, CO, you are in the right place. All of our drivers are professional and knowledgeable and will do everything to ensure that you have a great experience. They are familiar with the local roads and will take you safely to your destination on time every time. Regular background checks and drug testing ensure that they are top-notch. They are familiar with the area and can suggest to you the best visiting places or hotel stays.
Give us a call Our friendly customer support team is available 24/7 for your help. Or you can book online simply through our online booking form.
Denver Ride offers a safe, affordable, and easy way to travel between Aspen, and more than 20 cities in Colorado mentioned below.
Denver to Aspen Shuttle | Aspen to Denver Shuttle | Bus from Denver to Aspen | Shuttle from Denver to Aspen | Aspen Car Service | Aspen limo | Bus from Aspen to Denver | Aspen limo tours | Shuttle Denver to Aspen | Denver to Aspen bus | Aspen bus | Denver airport to Aspen shuttle | Shuttles from Denver to Aspen | Aspen limo service | Transportation from Denver to Aspen | Aspen to Denver bus | Shuttle from Aspen to Denver | Car Service Denver to Aspen | Aspen luxury limo | Shuttle Aspen to Denver | Car service Aspen to Denver | Car service Aspen | Shuttle from Denver airport to Aspen | Aspen party rentals | Denver to Aspen car service | Aspen party bus rentals | Denver to Aspen transportation | Aspen limo services | Keystone to aspen | Aspen limo and car services | Car service from Denver to Aspen | Aspen to Denver transportation | Aspen to Denver car service | Shuttle service from Denver to Aspen | Aspen Colorado bachelorette | Aspen transportation services | Transportation Denver to Aspen | Transportation from Denver airport to Aspen | Transportation from DIA to Aspen | Transportation from Aspen to Denver airport | Denver to Aspen limo | Denver to Aspen private shuttle | Car service Vail to Aspen | Aspen airport ground transportation