Breckenridge Limo Service
Denver Ride Provide Private transportation from DIA Denver Airport to Breckenridge Colorado.
Car Service Denver to Breckenridge
Denver Ride offers Breckenridge Car Service from Denver International airport to Breckenridge. We have a huge collection of the fleet. Including Luxury SUVs for up to 7 passengers, and Sprinter Van for up to 14 Passengers Groups of people who want to spend a good time in Breckenridge Colorado. Call us today to our friendly customer support team and book your next ride. We offer Limo 24/7
Once you confirm your ride with Denver limo. We will take care of the rest to make your trip more memorable. You just need to sit back and relax while Breckenridge limo service provides transportation into the rocky mountains of Colorado.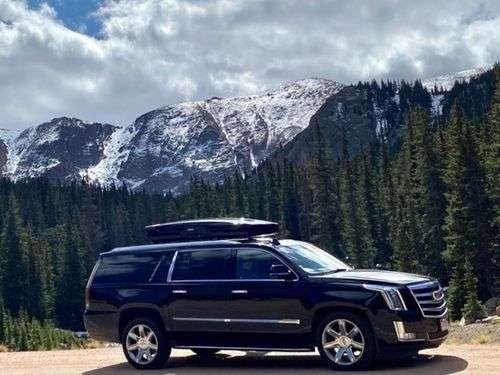 Transportation from Denver Airport to Breckenridge
Breckenridge is a top spot for snowboarding and skiing in Colorado. Denver 24/7 Limo, will guide you through the city. We'll make sure you have a memorable and safe trip. We provide ground transportation around the town such as airport transportation, Rocky mountain transportation, Sporting events, Concerts or Special events. We can provide reliable transportation to take you to the countryside or downtown.
All sizes of groups can use our transportation from  Denver airport to Breckenridge! We have luxury black SUVs and Sprinters vans. Denver 24/7 Limo will ensure that you and your guests have enough space, as well as all of your luggage and equipment for skiing and snowboarding. We will ensure you arrive at your destination safely and on time, whether you're flying from Denver International Airport or Eagle Vail Airport.
Denver Ride offers a safe, affordable, and easy way to travel between Breckenridge, and more than 20 cities in Colorado mentioned below.
Denver to Breckenridge | Denver to Breckenridge shuttle | Denver airport to Breckenridge | Breckenridge airport | Breckenridge to Denver airport | Breckenridge co to Denver co | From Denver airport to Breckenridge | Transportation from Denver to Breckenridge | Breckenridge Colorado to Denver | Transportation Denver airport to Breckenridge | Transportation from Denver airport to Breckenridge | DIA to Breckenridge | Breckenridge transportation | Denver international airport to Breckenridge | Car service from Denver to Breckenridge | Breckenridge to Red Rocks | Breckenridge car service | Denver to Breckenridge car service | Transportation from Breckenridge to Denver airport | Denver to Breckenridge transportation | Car service Denver airport to Breckenridge | Breckenridge to Denver transportation | Vans Breckenridge | Car service Denver to Breckenridge | Lakewood to Breckenridge | Granby to Breckenridge | Breckenridge to DIA | Transportation Denver to Breckenridge | Breckenridge Colorado to Denver airport | Castle Rock to Breckenridge | Breckenridge limo service | Car rental Denver to Breckenridge | Breckenridge airport transportation | Car service from Breckenridge to Denver airport | Ride from Breckenridge to Denver airport | Airport transfer Denver to Breckenridge | Transportation from DIA to Breckenridge | Limo from Denver to Breckenridge | Car service Breckenridge to Denver airport | Car service from Denver airport to Breckenridge | Car rental from Denver airport to Breckenridge |